Communicate easily using your PC
Webcams are very versatile, whether you are using it at home or at the office. Without any effort a webcam will bring you in contact with family, friends, and colleagues! We have made a selection of our favorite webcams of 2019, all with different features which make them great. Whether you are looking for a webcam for at home or at the office, in this blog you will find the information you need to make the right decision.
Our picks for 2019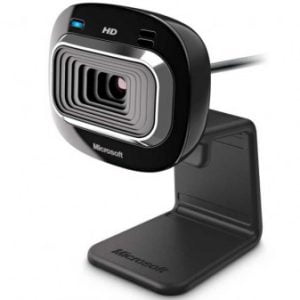 The Microsoft LifeCam HD-3000 is a webcam that works with a lot of different chat platforms, such as Skype and Skype for Business. No matter what your surroundings are, the HD-3000 will always provide great sound thanks to the noise-cancelling microphones, and great video because of the TrueColor Technology.
Features:
Universal joint base
720p HD video
Works with Skype, Skype for Business and a lot more
WideScreen because of the 16:9 aspect ratio
---
With the Logitech Brio you will enjoy outstanding video, great colors and amazing sound. Thanks to the BrightLight technology you can even have high quality video calls in dark and light rooms. Using the Infrared facial recognition you can easily log in by just looking into the webcam. The Brio is also compatible with a lot of different chat platforms, such as Skype and Skype for Business.
Features:
Ultra HD 4k
Omni-directional & noise cancelling microphones
60 fps
Autofocus
Perfect for on the go, thanks to the special carrying pouch
---

With the LifeCam Studio, you can enjoy a superior webcam with 1080p HD video quality. The wide-angle precision lens with glass element and clear frame technology provides bright, detailed images of great quality, in all light conditions. Use the built-in High-Fidelity Microphone to bring it all together: the vivid sights, colors and sounds of real life.
Features:
1080p HD sensor for superior sharpness and image quality
720 HD video chat for a true HD-quality experience
Precision lens for sharp image quality
Certified for Skype and Skype for Business
---

The all-in-one BCC950 video conference system, with its high definition, plug-and-play webcam, and microphone. Is ideal for small spaces or for teams of 1-4 people. The BCC950 combines HD video and glass clear audio with high quality. In other words, its everything you need for a small video conference.
Features:
Full HD 1080p video
1.2x HD Zoom
Integrated full duplex microphone with noise cancellation
Camera LED
---
Don´t miss a thing, and enjoy high-quality 720p HD widescreen video with 360° rotations. The webcam rotates 180° in every direction and this gives the LifeCam Cinema an absolute overall picture. The webcam is also equipped with a wideband microphone with noise canceling technology to
improve the voice quality for optimal sound recording for crystal clear audio.
Features:
720p HD video chat
Autofocus for sharp and detailed images
360° rotation
Wideband microphone for premium sound recording
Find our complete range of webcams here
---
Call us for expert advice!