There are numerous factors to consider when buying long range radios. Therefore, we have compiled the list below to help you make an informed choice. This will explain, among other things, the range of walkie-talkies.
---
1. What range do my walkie-talkies need?
Range is one of the most important features when buying a walkie-talkie. Range depends on two mean factors: the frequency the radio is transmitting on (either UHF or VHF) and the environment in which the radio is used.
2. Battery life
The battery is an important part of a walkie-talkie, not only for range, but also for signal strength and sound quality. Make sure you use batteries with a long life. NiMH batteries are known to be the most suitable batteries, as they provide sufficient power to walkie-talkies and allow the signal to travel the greatest distance.
Signal reception will not change when using these specific batteries; however, transmission power will improve significantly.
3. Repeaters
A repeater receives a signal, as it were, and transmits it over a greater distance. This is done through a process known as duplexing – the radio receives the signal on one frequency and then transmits it on another.
4. Antennas
An antenna provides a higher transmission point for walkie-talkies. Antennas amplify the signal for both outgoing and incoming transmissions.
Our recommendation
Normally, a VHF frequency would be the preferred option when choosing a walkie-talkie, due to its range. However, adding powerful batteries and the right antenna can increase the range of a UHF walkie-talkie. Some long distance walkie-talkies have both UHF and VHF versions, be sure to choose the right one.
---
Take a look at these options
The Midland G10 walkie-talkie is a small and compact professional walkie-talkie that is easy to use and provides clear, crisp communication.
Key features:
Up to 10 km range in ideal conditions
16 channels, 51 CTCSS and 83 DCS codes
VOX function
Audio Squelch (Noise Cancelling)
---
Robust and weatherproof licence-free walkie-talkie – an ideal tool for easy communication, especially outdoors and in hazardous environment.
Key features:
Up to 10 km range in ideal conditions
8 channels and 121 codes
LED light
LCD display with backlight 
---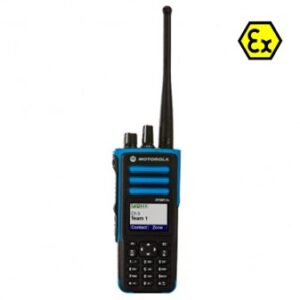 VHF walkie-talkie with ATEX certification, comfortable analogue-to-digital transition with 1000 channels and screen.
Key features:
ATEX certified – useable in explosive environments 
1000 channels
Man Down & Lone Worker functions 
VOX capability
---
If you have any questions or are interested, please contact us.
Click on the link below to view our wide range of walkie talkies.