If you are planning to purchase new walkie talkies, it is important that you are familiar with the differences between VHF and UHF radios. In this article we try to explain this as simply as possible to help you find out whether you should purchase a VHF or UHF radio.
---
Walkie talkie frequencies
Radio frequencies are generally not difficult to understand. However, it is useful to know that in most cases a UHF walkie talkie is the most suitable option. Keep in mind that UHF (Ultra High Frequency) radios cannot communicate with VHF (Very High Frequency) radios.
UHF walkie talkies
UHF radios work with frequencies from 400 to 512 Megahertz (MHz). Most users prefer these types of radios because their signals can penetrate busy buildings. They are also suitable for indoor and outdoor activities. Stronger UHF radios will have a further reach in buildings and can penetrate steel and concrete with their signal. Nevertheless, radios have difficulty penetrating glass. This makes UHF the better option for general use in indoor and outdoor air.
VHF walkie talkies
The VHF radios operate at 136-174 MHz and operate over large distances with less power consumption. With VHF walkie talkies, the signal waves can travel a further distance. With optimum conditions (clear view – for example, without buildings and mountains), the range is at its best. VHF radios are especially popular for communication in air and sea shipping, because they function over waterways, in the air or on the ground. Other examples of places where VHF walkie talkies are often used are: On golf courses, at outdoor events or for security purposes.
---
Entel DX425 VHF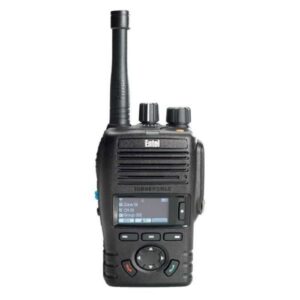 Water-resistant and submersible IP68 walkie taklie, with screen and VHF licence.
Standards IP68 and MIL-STD 810 C/D/E/F/G
Submersible up to 2m
64 channels/ 8 programmable zones
Individual calls group calls and caller ID
---
Midland HP 108 VHF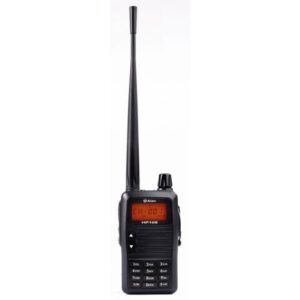 VHF-licensed walkie-talkie, IP54 protection, with 180 channels
180 channels subdivision channels per group
LCD display
Robust IP54 protection
Up to 12 hours battery life
---
Analogue walkie-talkie ready to migrate to digital mode – 16 channels
Licence required
16 channels
IP54 resistant
2 programmable buttons on the side
---
Motorola DP4801 ATEX – UHF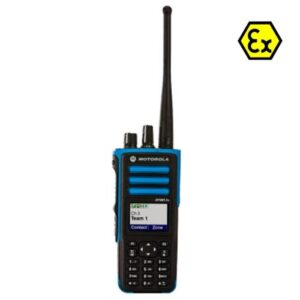 UHF walkie-talkie with ATEX certification, comfortable analogue-digital transition, 1000 channels, with display
UHF walkie-talkie with ATEX certification: for potentially explosive environments
IP67 protection
Also available in VHF version
Automatic ambient noise suppression
---
Interested or need help?
Take a look at our website and view the various UHF and VHF radios that we offer.
If it is not yet entirely clear whether you would like to receive more information about our offer, please contact us at 085 888 3452 or contact@onedirect.nl.