Wireless headsets, also known as DECT headsets, are often confused with Bluetooth headsets. In this article we will describe the differences.
What distances can the signal from Wireless and Bluetooth headsets travel?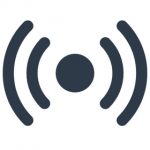 The first difference between Wireless and Bluetooth is the distance the signals can travel. DECT stands for Digital Enhanced Cordless Telecommunications. The signal of a DECT headphone can be received up to an average of 100 metres. With Bluetooth, this distance is only about 10 metres, sometimes even 5 metres in office environments. Also, Class Three Bluetooth, which actually indicates a range of up to 100 metres, only works at 30 metres.
If you prefer to be able to leave your desk and walk around freely while working, a wireless headset is recommended.
How many devices can the Wireless and Bluetooth headsets be connected to?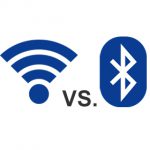 A wireless headset can only be connected to one other device, which is usually the base station. A Bluetooth headset can be connected to up to seven different devices. So, if you are looking for a headset that you can connect to several devices and can easily work in different environments away from the base station, then a Bluetooth headset is the right option.
Nevertheless, with its superior range, a wireless headset is a good investment, especially in the workplace. This is because it allows you to move freely within 100 metres of the base station.
How safe are Wireless and Bluetooth headsets?
Wireless headsets have a 64-bit encryption, which has a key length of 18,500,000,000,000 digits and is almost unbreakable.
Bluetooth headsets use 8 to 128-bit encryption. Because of this, it is recommended that you look at the buying guide for a product to determine the length of the encryption.
If you have connected your headset to the base station using 128-bit encryption, the chances of someone eavesdropping during your call are virtually zero.
What do we recommend?
Before you decide which headset to order, you should understand what the headsets will be used for. If the users will be using it at their desk, we recommend a DECT headset so they can move around freely.
If the headset will be used with a smartphone, we recommend a Bluetooth headset, as mobility is not an issue in most cases.