Would you like to know what the best Bluetooth headsets of 2021 are?  Here is our top 10. We have arranged them specifically for you by brand and their best features, to help you make the right choice.
Jabra Bluetooth Headset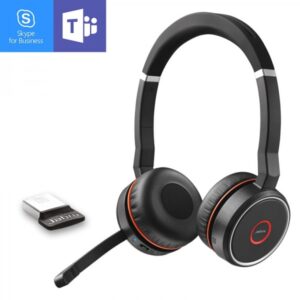 The Evolve 75 MS is equipped with the latest active noise cancelling technology; a crucial feature, as 69% of employees say that the noisy environment of an open-plan office negatively affects their productivity.
Key features:
4 microphones with noise cancellation
Excellent sound quality for telephone calls and listening to music
Bluetooth 4.0 multipoint
In-call light
---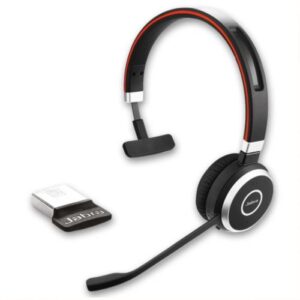 This mono Bluetooth headset has a maximum range of 30 metres and a noise-cancelling microphone. This gives you more freedom to move and focus on your calls without compromising call quality.
Key features:
Noise cancelling feature; clear calls
Versatile; high-quality calls and music streaming
Battery life 10 hours
---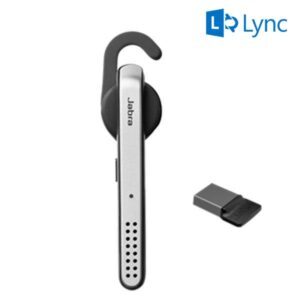 The Jabra Stealth UC MS Bluetooth headset uses nanotechnology, which enables a smaller and more comfortable Bluetooth headset with an increased talk time of up to 6 hours.
Key features:
Ultra-lightweight Bluetooth headset with remote control
HD audio and Noise Blackout technology
Voice Control button
---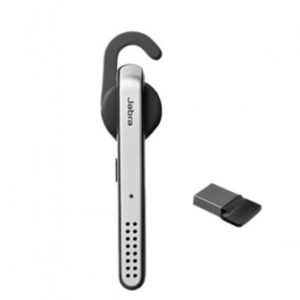 The Jabra Stealth Bluetooth headset complements both your personal and professional life. It not only lets you take high-quality calls, but also stream music. It can be worn on either ear.
Key features:
Noise Blackout technology: HD sound and noise cancellation
Mobile range: 10 metres & PC range (adapter): 30 metres
Light design
---
Sennheiser Bluetooth headsets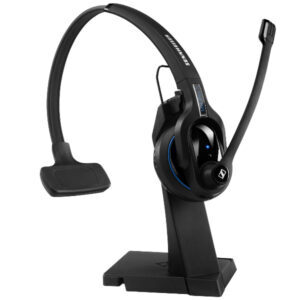 This mono headset offers you Sennheiser HD sound and automatically adjusts the sound for taking calls or listening to music and other multimedia. Pair the headset with two Bluetooth devices at the same time and easily switch between calls on both.
Key features:
Multi-connectivity
Ultra noise-cancelling microphone
ActiveGard hearing protection
---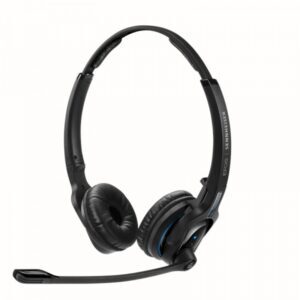 The Sennheiser MB Pro 2 is a premium Bluetooth duo headset with a comfortable headband and sound on both sides. This headset is ideal for professionals who communicate via one or more mobile devices and wish to remain hands-free. This duo headset offers you Sennheiser HD sound. This automatically adjusts the sound for taking calls or listening to music and other multimedia.
Key features:
Up to 15 hours talk time
ActiveGard hearing protection: protects your hearing from sudden loud and high tones
Ultra noise-cancelling microphone and excellent Sennheiser HD sound
---
Plantronics Bluetooth headsets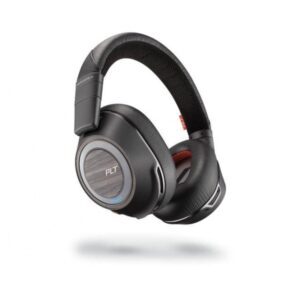 With the Voyager 8200 UC, you can switch easily between your phone and laptop. Intelligent sensors ensure that you can easily take calls by simply picking up the headset. You can also mute calls or pause music by putting the headset down. With two models of active noise cancellation, 24 hours of listening time and Hi-Fi stereo sound, the Voyager UC 8200 will help you concentrate without distractions.
Key features:
Active noise cancellation
Omnidirectional microphone with dual-pairing and digital signal processing
Bluetooth range of up to 30 metres
---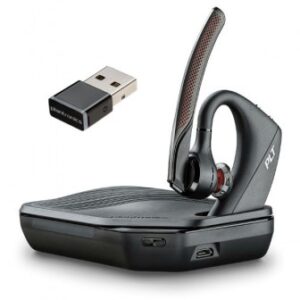 The Poly Voyager 5200 Bluetooth headset is the latest headset in the Voyager range. It offers unsurpassed sound quality due to the best noise-cancelling technology. Specially designed for professionals who require an audio quality that allows them to have conversations free of interference in any environment.
Key features:
4 Noise-cancelling microphones
Bluetooth® 4.1 Technology and NFC
Multipoint technology for pairing different devices
Portable charging station
---
Plantronics Voyager Focus UC MS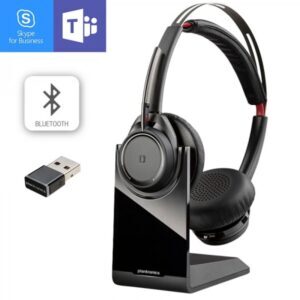 The professional Plantronics Voyager Focus UC Bluetooth headset from the Plantronics UC Focus series allow you to fully concentrate on your calls or music without any distractions. With three precisely tuned microphones and sophisticated mute options, your callers can concentrate on you too.
Key features:
Active noise cancellation
Range of up to 30 metres
Smart sensor technology
---
Cleyver Bluetooth headsets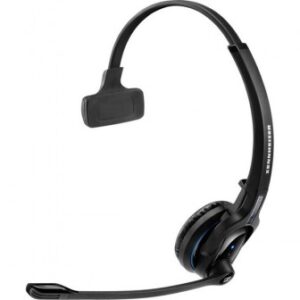 Unlike many other Bluetooth headsets on the market, the HW60 is 100% professional, despite being wireless. The use of a patented 28 mm Voice-Enhancing speaker and a superior quality noise-cancelling microphone make this headset a powerful and professional asset.
Key features:
Up to 10 hours talking time, 200 hours standby
Multipoint technology
Range: 10 metres